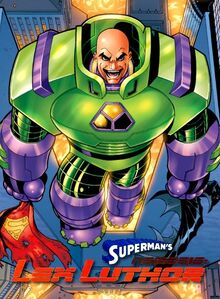 Action Comics: Lex Luthor is a 2022 superhero action film based on the DC Comics' characters, Superman and Lex Luthor. Following the events of Action Comics: Superman, the film tells the tale of Lex, his motivation to destroy Superman, and his carrying out a plot to do so. It is the seventh installment of the DCCU and marks the beginning of Phase Two.
Plot
Coming soon...
Cast
Henry Cavill as Superman/Kal-El
Adrianne Palicki as Lois Lane
Stephen Moyer as Alexander "Lex" Luthor
TBA as Samuel Lane
Blake Anderson as James "Jimmy" Olsen
Gallery
Coming soon...
Quotes
Coming soon...
Ad blocker interference detected!
Wikia is a free-to-use site that makes money from advertising. We have a modified experience for viewers using ad blockers

Wikia is not accessible if you've made further modifications. Remove the custom ad blocker rule(s) and the page will load as expected.