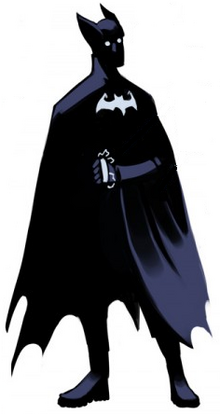 Bruce Wayne
, also know as
Batman
is the CEO of Wayne Industries after watching helplessly after two-bit crock,
Joe Chill
gunned down his parents,
Thomas
and
Martha Wayne
. Seeking to average his parents' death and stopping every crimes in Gotham City, he travel arould the world to train himself. After returing to Gotham, he decides to use a bat as a motif to strike at the heart of the criminals. After defeating
Black Mask
, an crime boss who hired Chill to kills his parents, he gain the trusts of the Gotham PD and the commissioner,
James Gordon
, an old friend of his father. 
Powers & Abilities 
Martial Arts
Average Intelligence 
Detective Skills 
Various Weapons 
Baterangs 
Grappling Gun 
Smoke Bombs 
Night-Vision Goggles 
Electric Gloves 
Knock Out Gas Bombs 
Ad blocker interference detected!
Wikia is a free-to-use site that makes money from advertising. We have a modified experience for viewers using ad blockers

Wikia is not accessible if you've made further modifications. Remove the custom ad blocker rule(s) and the page will load as expected.