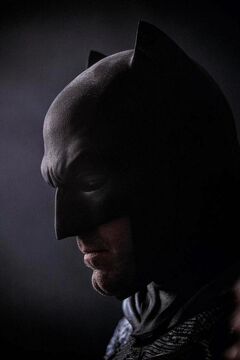 The Batman
is a 2017 film set in the DC Extended Universe, taking place after 
Batman V Superman: Dawn of Justice
. It stars Ben Affleck, Leonardo DiCaprio, Kate Beckinsale, Tony Todd, Zachary Gordon, Liam Hemsworth, Jeremy Irons, J.K. Simmons, and Greg Grunberg.
Plot
Bruce Wayne, millionaire CEO by day and crime-fighting vigilante by night, must deal with memories of his sidekick's death at the hands of his arch-nemesis and becoming the hero that Gotham needs him to be. Meanwhile, Maximillian Zeus, a Gotham socialite obsessed with Greek mythology, believes he is a god, and that Batman is a false idol who must be destroyed, so he uses his metahuman henchman, Basil Karlo, to help him with his evil plan.
Cast
Ben Affleck - Bruce Wayne / Batman
Leonardo DiCaprio - Maximillian Zeus
Kate Beckinsale - Selina Kyle
Liam Hemsworth - Dick Grayson / Nightwing
Jeremy Irons - Alfred Pennyworth
J.K. Simmons - James Gordon
Greg Grunberg - Harvey Bullock
Tony Todd - Basil Karlo / Clayface
Zachary Gordon - Tim Drake
Emma Watson - Barbara Gordon (cameo)
David Cross - Gillian B. Loeb (cameo)
Jared Leto - The Joker (flashback)
Dylan O'Brien - Jason Todd / Robin II (flashback)
Adam West - Gotham Gazette reporter (cameo)
Ad blocker interference detected!
Wikia is a free-to-use site that makes money from advertising. We have a modified experience for viewers using ad blockers

Wikia is not accessible if you've made further modifications. Remove the custom ad blocker rule(s) and the page will load as expected.