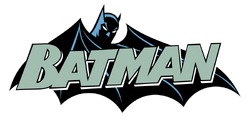 The Batman was the first installment of the DC Cinematic Universe. The film was directed by Matt Reeves and was written by Geoff Johns, Bruce Timm, and Paul Dini.
Cast
Josh Brolin as Bruce Wayne/Batman
Steven R. McQueen as Jason Todd/Robin II/Red Hood
Willem Dafoe as Joker
Daniel Day-Lewis as Ra's al Ghul
Viggo Mortenson as Roman Sionis/Black Mask
Hugh Laurie as Alfred Pennyworth
William H. Macy as Commissioner Jim Gordon
Brant Daugherty as Dick Grayson/Robin I/Nightwing
Brian Baumgartner as Harvey Bullock
Winona Ryder as Vicki Vale
Aaron Staton as Jack Ryder
Emma Stone as Barbara Gordon
Sally Field as Leslie Thompkins
Jim Parsons as Edward Nygma/The Riddler (cameo only)
Michael C. Hall as Thomas Elliott (cameo/photo only)
Elizabeth Mitchell as Shelia Haywood (flashback only)
Jim Caviezel as Thomas Wayne (flashback only)
Amanda Peet as Martha Wayne (flashback only)
Brad Doruif as Joe Chill (flashback only)
Plot
Five years ago, Batman failed to save Jason Todd, the second Robin, from an explosion. The first mistake Batman has ever made. In those five years Batman has refused to take a new sidekick under his wing. In the present day a new villain, Red Hood, appears and takes control of the criminal underworld. After some investigation and an encounter with the new villain, Batman begins to believe that Red Hood is someone he once knew. After discovering Red Hood is actually Jason Todd, Batman cannot believe it's him. After interrogating both Joker and Ra's al Ghul, he soon discovers that it's true. Returning to Gotham, with the help of Nightwing and the G.C.P.D., Batman is forced to fight his former sidekick and friend one last time.
End-Credits Scene
Ra's al Ghul is shown in his hideout from earlier in the film. Two members of the League of Assassins walk in and inform Ra's that an outside force recently used the Lazarus Pit. The scene cuts to the Riddler in his hideout. He used the Pit to cure his terminal caner, and due to the Pit, Riddler has gone temporarily insane. Somehow he pieces together that Batman and Bruce Wayne are one in the same. He rushes to his computer and finds Thomas Elliot's contact info, as his eyes widen.